Mansfield Connections Highlights Windham Tech Graduate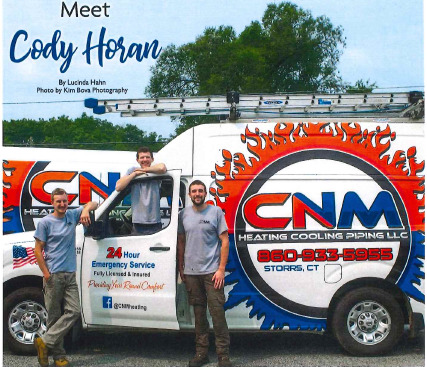 Like many kids growing up in and around Mansfield, Cody Horan's life was influenced by some exceptional teachers.
They crossed paths while Cody attended Windham Technical High School in Willimantic, which attracts students from towns throughout the area. "I received a great education and had two great HVAC shop instructors, Mr. Caisse and Mr. Froment," recalls Cody. "Without a doubt, they helped set the building blocks in place for my success out in the real world, and I owe a lot of credit to them."
Also shaping his future was Cody's grandfather, Richard Grimm. As the owner of a weather-stripping company that served countless local homes, Cody said, "He gave me a lot of inspiration to become self-employed."
Cody, in turn, has given his mentors a lot to be proud of: He's the co-owner of a thriving heating and cooling business, a homeowner and even a responsible pet owner – of a miniature pot-bellied pig! "My everyday life is non-stop from the moment I wake up till the moment I go to sleep," he says. "A motto I try to live by is, 'Face the demands of life. Respond to a challenge instead of bracing for a catastrophe."'
Buying his first home seemed, at first, like one of those challenges. "I knew I wanted to move to Storrs/Mansfield because it's a great combination of farmland combined with the upbeat nature that U-Conn brings," he recalls. Cody looked at one house, then another, and another. Nothing felt right. Finally, while touring the eighth option – a home on a quiet cul-de­sac of Old Schoolhouse Road – everything changed. "I walked in and instantly knew it was the one I wanted."
That was five years ago, and he's never regretted his choice. "All of my neighbors are great," he says, "And most of them have supported me when I started my business." He pays it back by "helping others with whatever I can, whenever I can."
About three years ago, Cody and a longtime friend, Mark Burns, started CNM Heating. Cooling & Piping LLC – leveraging their significant experience in the HVAC industry. For Cody, this included working at Potter's Oil Service and the Manchester-based commercial HVAC company SK Mechanical – where, he says, "I learned a tremendous amount from the high-risk, high responsibility atmosphere."
Mansfield became a beneficiary of the partnership when the duo bought the commercial property at 699 Storrs Road for their shop. They are giving the place a major glow-up. "After being vacant for more than five years, it was pretty run down, but it is a staple in town, right on the main road, and we are in the process of fully restoring it back to its glory," Cody said.
In what little down time he has, the outdoors calls. Cody loves kayaking and fishing. hiking in the mountains, or taking his Jeep off-road with friends. (These adventures often include his friendly little pig. whose name is Zoe.) Cody's also a major Red Sox and U-Conn Huskies fan, catching a game whenever he can. And while he's always loved live music, more and more he finds himself seeking out "secluded and relaxing places like the beaches in Rhode Island, or the White or Green mountains."
Cody also cherishes memories of his grandfather. After his grandparents moved to Ocala, Florida, when Cody was in fourth grade, he loved flying south to visit them – which often included outings to Disney World, Universal Studios and Daytona Beach. "My grandfather has since passed away," said Cody, "But I go down to visit my grandmother whenever I can." Cody would like everyone reading this to know how much they are appreciated. "I love working and living in this community," he says. "The people in this area are very local­oriented, almost like a family. They've inspired me to invest in myself and those around me to build a better future."