Wilcox Tech Launches Career Academy in Partnership with Meriden Public Schools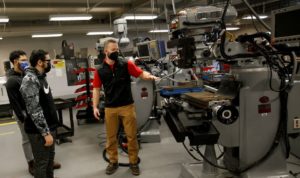 In collaboration with Meriden Public Schools, H.C. Wilcox Technical High School, part of the Connecticut Technical Education and Career System (CTECS), opened an afterschool, career and technical education (CTE) program for grade 10 and 11 Meriden public school students. Twenty-three (23) students have enrolled in the program.
"We are thrilled to partner with the Connecticut Technical Education and Career System and Wilcox on the creation of the Career Academy for Meriden Public Schools students," said, Dr. Mark Benigni, Superintendent of Meriden Public Schools. "These are the innovative partnerships that can make a real difference for our students.  Culinary Arts, Facilities Carpentry and Manufacturing are high demand and high interest trades."
The two-year Career Academy program will graduate students with two and a half CTE credits towards a high school diploma and industry-recognized credentials in one of three trade areas: Manufacturing, Facilities Carpentry or Culinary. The Career Academy program gives students a jump-start on their career by preparing them with technical and employability skills aligned with entry-level industry positions.
"The need for skilled trade workers continues to rise, and CTECS is committed to meeting that demand by creating new and innovative educational pathways that align with the needs of regional employers," said Jeffrey Wihbey, CTECS Superintendent of Schools. "The Career Academy expands training opportunities available to the next generation of Connecticut's workforce, and we hope to replicate this model throughout the state."
To learn more about The Career Academy, contact Principal Stacy Butkus at Stacy.Butkus@cttech.org.