Windham Tech Teacher Announced as CTECS Teacher of the Year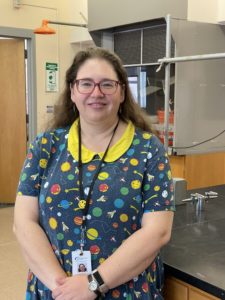 May 4, 2022; Hartford, CT – Rebecca Cipriani Reyer, a science teacher at Windham Technical High School, located in Windham, CT, has been named the Connecticut Technical Education and Career System (CTECS) Teacher of the Year, Interim Superintendent of Schools Dr. Ellen Solek announced today.
"CTECS is so fortunate to have a teacher like Rebecca Reyer," said Interim Superintendent Dr. Ellen Solek. "She is tremendously passionate about science, her students' learning and their future success. She is a shining example of teachers who 'go the extra mile' for their students. I am honored to recognize her as the 2022 CTECS Teacher of the Year."
In 2018, Reyer was recruited to teach physics at Windham Tech. Prior, she was working in the training department at Millstone Nuclear Power Station. She has since taught honors physics, advanced topics in science, general science and forensics. Next year she will take on chemistry.
"I strongly believe that students need to be involved and excited about learning in order to succeed," said Reyer. "High engagement is even more critical in our technical high school environment, as so many of our students are hands-on learners. Lucky for me, when taught properly, science is a natural fit. Almost every class period involves some sort of an active, minds-on experience."
Reyer also acknowledges that teaching goes beyond academics.
"To support academic success, I must also focus heavily on supporting social-emotional issues and building relationships."
She regularly sends home "good news" cards to recognize student accomplishments, celebrates all student birthdays – even the summer ones, and collaborates with school staff and families to support students in need of extra help.