Coronavirus (COVID-19) is a global challenge that is affecting many aspects of our lives, including school operations. We've created this page to compile information related to COVID-19 that is relevant to our families. Please check back frequently for updates.
COVID-19 Health and Safety Compliance Liaison: John Woodmansee, 860-754-8765, John.Woodmansee@cttech.org
CTECS' COVID Dashboard
CTECS' SAFE RETURN TO IN-PERSON LEARNING, CONTINUITY OF SERVICES PLAN, August 2021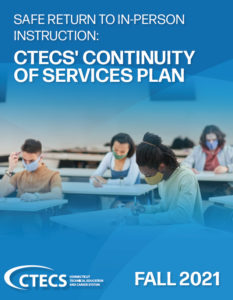 CTECS Safe Return to In-person Learning, Continuity of Service Plan provides important information regarding the continued operation of our schools during the pandemic. The plan was developed following guidelines issued by the CDC's Guidance for COVID-19 Prevention in K-12 Schools, the Connecticut State Department of Education, and in consultation with local and state health departments.
Please keep in mind that this plan is based on public health information available at this time. The plan will be revised and adjusted as new guidance is received, or as necessary to best support the health and safety of our students and employees
Updates from the Superintendent
February 25, 2022 – Masks optional as of 3/1/22
August 9, 2021 – Masks, vaccinations and remote learning
May 14, 2021 –  Return to in-person learning
May 4, 2021 – Guide to returning to school
April 9, 2021 – COVID travel guideline update
March 31, 2021 – Thank you for completing the reopening survey
March 12, 2021  – Reopening survey for parents
March 10, 2021 – Grading policy changes
January 15, 2021 – Prioritizing graduating seniors
December 23, 2020 – Seasons Greetings and Schedule updates
December 18, 2020 – Phase 3 for all CTECS locations
December 10, 2020 – Camera use while distance learning
November 30, 2020 – Snow day protocol
November 11, 2020 – Health and safety reminders
October 28, 2020 – Remaining in phase 2 and half-day Wednesdays
October 21, 2020 – Phase 2 for all CTECS locations
September 21, 2020 – Please stay home when sick
August 17, 2020 – Hybrid Learning Plan, WBL and Face Masks
August 7, 2020  – Schools to open in Phase 2, Hybrid Learning; Opt-in form for Distance Learning
July 31, 2020 – CTECS Guide to Reopening, School Year 2020-21
June 26, 2020 – Governor Lamont's reopening guidelines
May 5, 2020 – In-person classes canceled for school year
May 1, 2020 – Grading Policy, future plans
April 24, 2020 – Bringing out the best in us
April 17, 2020 – Grading policy, supports and resources
April 9, 2020 – School closure extended to May 20, cycle rotations, and more
April 2, 2020 – April vacation, third quarter grades and more
March 26, 2020 – Distance Learning starts 3/30, cyber safety, and more
March 20, 2020 – Distance Learning Plan announced
March 17, 2020 – Free meal locations announced
March 13, 2020 – School closures are announced
March 10, 2020 – CTECS is taking preventative measures
February 28, 2020 – Monitoring COVID-19, sharing healthy behavior guidelines
COVID-19 Resources and Information
CTECS
State of Connecticut
Centers for Disease Control
Supports & Resources
Grief Counseling Resources and Support
Suicidal Youth
Kids in Crisis: 203-327-KIDS
Text the Crisis Text Line at 741741
Call the National Suicide Life Line at 800-273-8255
Call The Trevor Project (LGBTQ support): 866-488-7386
For CT's mobile crisis: Dial 2-1-1, select option 1
Call 911 and ask for a Crisis Intervention Trained (CIT) officer
Trans Lifeline's Hotline is a peer support service run by trans people, for trans and questioning callers. Dial 877-565-8860
Public Health Emergency Crisis Intervention
The Disaster Distress Helpline (DDH) provides crisis counseling and support for anyone in the U.S. experiencing distress or other behavioral health concerns related to any natural or human-caused disaster, including public health emergencies. Call 1-800-985-5990 or text TalkWithUs to 66746.
Domestic Violence
For any victims and survivors who need support, call 1-800-799-7233 or 1-800-799-7233 for TTY, or if you're unable to speak safely, you can log onto thehotline.org or text LOVEIS to 22522.
Sexual Assault
Call 800.656.HOPE (4673) to be connected with a trained staff member from a sexual assault service provider in your area.
Additional Resources